New York And
New Jersey Litigation Attorney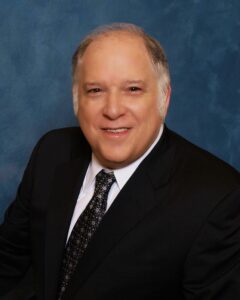 Location:
Florham Park, New Jersey
Phone:
973-520-8933
Fax:
973-301-0094
Email:
I am an attorney who is fiercely dedicated to protecting the rights of my clients.  I have thirty-five years experience as a litigator in federal and state courts throughout the United States, mostly in New Jersey and New York.  Currently, I have a diverse litigation practice, based in Florham Park and focused in Central and Northern New Jersey.  Over the years, I have won multi-million dollar verdicts and settlements in commercial lawsuits, partnership disputes, real estate matters, divorce actions, employment cases, contract disputes, intellectual property cases, civil rights actions and appellate matters.  I have represented public companies, small businesses, entrepreneurs, professional athletes, public figures, entertainers, Soviet dissidents and citizens in a wide variety of lawsuits.  I have been rated as a Super Lawyer for the past four years.  I have been featured on the front page of the New Jersey Law Journal, the Newark Star-Ledger and Page Six of the New York Post.  I do not shy away from hard cases or difficult opponents.
After graduating from New York University School of Law with a Masters of Law (L.L.M.) and Brooklyn Law School with a Juris Doctor (J.D.), I had the privilege of serving two one-year judicial clerkships.  In the late 1970's, I was the law clerk to the Honorable Joseph Halpern, New Jersey Superior Court, Appellate Division.  The following year, I served as the law clerk to the Honorable Alan B. Handler, Associate Justice, New Jersey Supreme Court.
 In 1981, I was appointed as the youngest Adjunct Professor at Brooklyn Law School at that time.  Between 1981 and 1990, I taught an elective class in Appellate Advocacy.  During that time, I also gave a lecture on Statutory Analysis to students in the Judicial Clerkship Clinic.  I also coached several Moot Court Teams at Brooklyn Law School.  I had the privilege of teaching and training some very good lawyers.
Over the years, I have won many significant victories in commercial cases, divorce actions, employment cases, civil rights lawsuits, class actions, intellectual property matters, partnership disputes, contract actions and real estate matters.  I have more than twenty-five reported decisions.  I have had the privilege of representing Soviet dissidents, Vladimir Bukovsky and Aleksey Tumerman.  I participated in the representation of Walter Polovchak, the "littlest defector", the twelve year-old Russian boy who refused to return to the Soviet Union with his parents during the 1980's. 
I have represented
– citizens in constitutional challenges to the Highlands Act  and "Hair Trigger" municipal ordinances  in New Jersey;
– parties in class actions relating to eating disorders, telephone calling cards and unreimbursed medical expenses;
–  a physician whose revocation of his medical license was reduced to a suspension;
–  parties in divorce actions concerning the division of substantial marital assets and compliance with court orders;
–  partners in  disputes over the use of partnership names, leases, telephone numbers and the division of     partnership assets;
– family members in disputes over gifts from family members and will contests;
– an investor in thoroughbred horses in a RICO case involve overcharging and other wrongdoing;
– executives in employment actions against Fortune 500 companies and other businesses; and
– parties in construction cases concerning defects in workmanship and materials.
 Presently, after my affiliation with several prestigious law firms in New Jersey and New York, I operate my own diverse litigation practice.  My clients know that I represent them with undivided loyalty and great ferocity.  I will bring that same devotion an drive to your case. 
Areas of Practice
Business & Commercial Litigation
Divorce and Family Law
Employment Law — Employee
Personal Injury
Litigation Percentage
100% of Practice Devoted to Litigation
Bar Admissions
New Jersey, 1976
New York, 1980
U.S. District Court District of New Jersey, 1976
U.S. District Court Eastern District of New York, 1990
U.S. District Court Southern District of New York, 1980
U.S. Court of Appeals 2nd Circuit, 1980
U.S. Court of Appeals 3rd Circuit, 1976
Education
New York University School of Law, New York, New York
Brooklyn Law School, Brooklyn, New York
Syracuse University, Syracuse, New York

Honors: Dean's List, 1971 – 1972

Major: Public Address and Rhetoric
Published Works
Matthew Bender, Criminal Defenses, Chapters on Search and Seizure and Insanity Defense
References
PNC Bank
Nicholas Russo, Accountant
Richard Rose, Sports Executive
Louis L. D'Arminio, Esq., Attorney
Classes/Seminars
Appellate Advocacy, Brooklyn Law School, 1981 – 1990
Statutory Analysis, Brooklyn Law School, 1981 – 1984
Honors and Awards
Super Lawyers, 2010 – 2018
Professional Associations and Memberships
New Jersey State Bar Association, Member
New Jersey State Bar Association, Young Lawyers Division, Member, Executive Committee, 1981 – 1983
Past Employment Positions
Alan B. Handler, Associate Justice, New Jersey Supreme Court, Law Clerk, 1977 – 1978
Joseph Halpern – Presiding Judge, New Jersey Superior Court, Appellate Division, Law Clerk, 1976 – 1977
Brooklyn Law School, Adjunct Professor of Law, 1981 – 1990